Lavender Sage Bath Tablet
$8.00
Rated 5.00 out of 5
Our bath bombs are 100% natural and handcrafted in small batches. Each bath cube is rich in moisturizing coconut oil, aromatic essential oils and natural clay. Our ingredient list is short and simple, with no fillers added. Treat your mind and body to a relaxing bath experience and rest assured that you are bathing in all clean ingredients.
Scented with a relaxing blend of Lavender and Clary Sage essential oils.
Directions: Fill your bathtub with warm water and drop in one bath bomb. Once the bath bomb has dissolved, relax and enjoy your bath.
Ingredients:
Baking soda, citric acid, coconut oil, essential oils, natural clay, and witch hazel.
Net weight: 3oz
Note: This single bath bomb tablet has an identical formulation to our popular Bath Bomb Cubes, but is just a different shape.
In stock (can be backordered)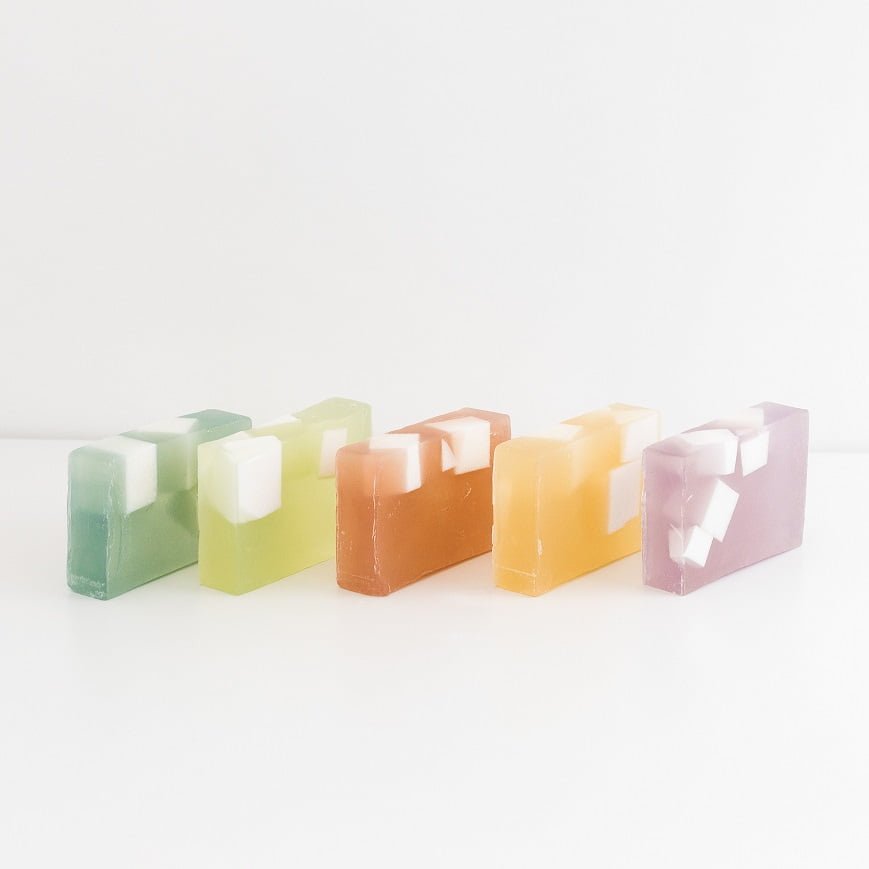 Uncategorized
Our glycerin soap is formulated with plant-based oils and aloe vera for extra moisturizing properties. This handmade soap bar is made in small batches and each bar can slightly vary in size, color and design. Our soap bar is gentle enough for use on sensitive skin. We recommend this soap bar for customers who like more of a cleansing feel. Our
Milk Soap Bar Collection
 is recommended for customers who like a more lathering and moisturizing feel. We do not use synthetic preservatives in our soap bars. Hence, please store the soap away from water and heat to extend its longevity. Check out our
Self Draining Soap Dish
for a beautiful option of storing and displaying your soap bar.
Pink Grapefruit: Feel uplifted with a burst of freshness and citrus.
Cucumber Melon: This crisp, juicy and delicate aroma will leave you feeling clean and light.
Lavender: A bold, floral aroma to make you feel fresh and relaxed.
Japanese Yuzu (Best Seller!): Aromatic with sweet accents and bold citrus freshness.
Juniper Berry & Lime: A woody, earthy scent balanced with tangy lime.
Sandalwood Vanilla: An invigorating blend of a warm, rich, and comforting scent accompanied by sweet vanilla.
Lychee: A unique combination of exotic fruitiness, refined sweetness and light floral tones.
Ingredients:
saponified oils of coconut, palm and safflower, glycerin, aloe vera gel, purified water, sorbitol (moisturizer), propylene glycol (from vegetable glycerin), sorbitan oleate (emulsifier), oat protein, titanium dioxide, mica and essential or fragrance oils.
Net weight:
 4.5+ ounces
Fragrance Collection scents include Lychee, Strawberry Rose, Japanese Yuzu, Cucumber Melon and Sandalwood Vanilla.
Natural Collection scents include Pink Grapefruit, Juniper Berry & Lime and Lavender.
$

12.50
Rated 5.00 out of 5