Orange Mint Bath Bomb Cubes
Our bath bomb cubes are 100% natural and handcrafted in small batches. Each cube is rich in moisturizing coconut oil, aromatic essential oils and natural clay. Treat your mind and body to a relaxing bath experience.
Each set contains two bath bomb cubes, weighing approximate 3 ounces each. The cubes are individually wrapped and packaged in a slide open box. Perfect to use for yourself or to give as a gift.
Scented with a refreshing and invigorating essential oil blend.
Directions: Fill your bathtub with warm water and drop in one bath bomb. Once the bath bomb has dissolved, relax and enjoy your bath.
Ingredients: Baking soda, citric acid, coconut oil, essential oils, natural clay, and witch hazel.
Net weight: 6 oz.
In stock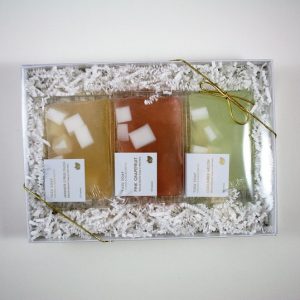 Fragrance Collection, Gifts, Natural Collection
This gift set includes three handcrafted glycerin soap bars of your choice! Please refer to
individual product listings
for the different scents and ingredients. Each soap bar is primarily made with plant-based oils (coconut, palm and safflower), with glycerin and aloe vera added for extra moisturizing properties. The soap bars are gentle enough for use on the body and face, and also for sensitive skin. This gift box measures 10'' x 7'' x 2'' and is secured with a gold elastic band. If you select "No Preference" for the option(s), we will randomly choose the soap bar(s) for you. All orders ship out within five business days; please specify in notes section at checkout if an earlier shipment date is needed.
$

30.00