Silicone Soap Dish
This silicone soap dish helps extend the longevity of your soap bar. This soap dish features a slanted base that enables water to automatically drain out.
Because our handmade soap bars are free of synthetic preservatives and hardening agents, they are best stored in a dry place away from direct sunlight and water.
Automatically drains water and keeps your soap bar dry when not in use
Extends the longevity of your soap bar
Simple and minimal design
Lightweight and flexible
Easy to clean (just use a brush to remove any soap residue)
Dimensions: 3.1″ x 4.5″ x 0.4″
Weight: 2.4 ounces
Only 3 left in stock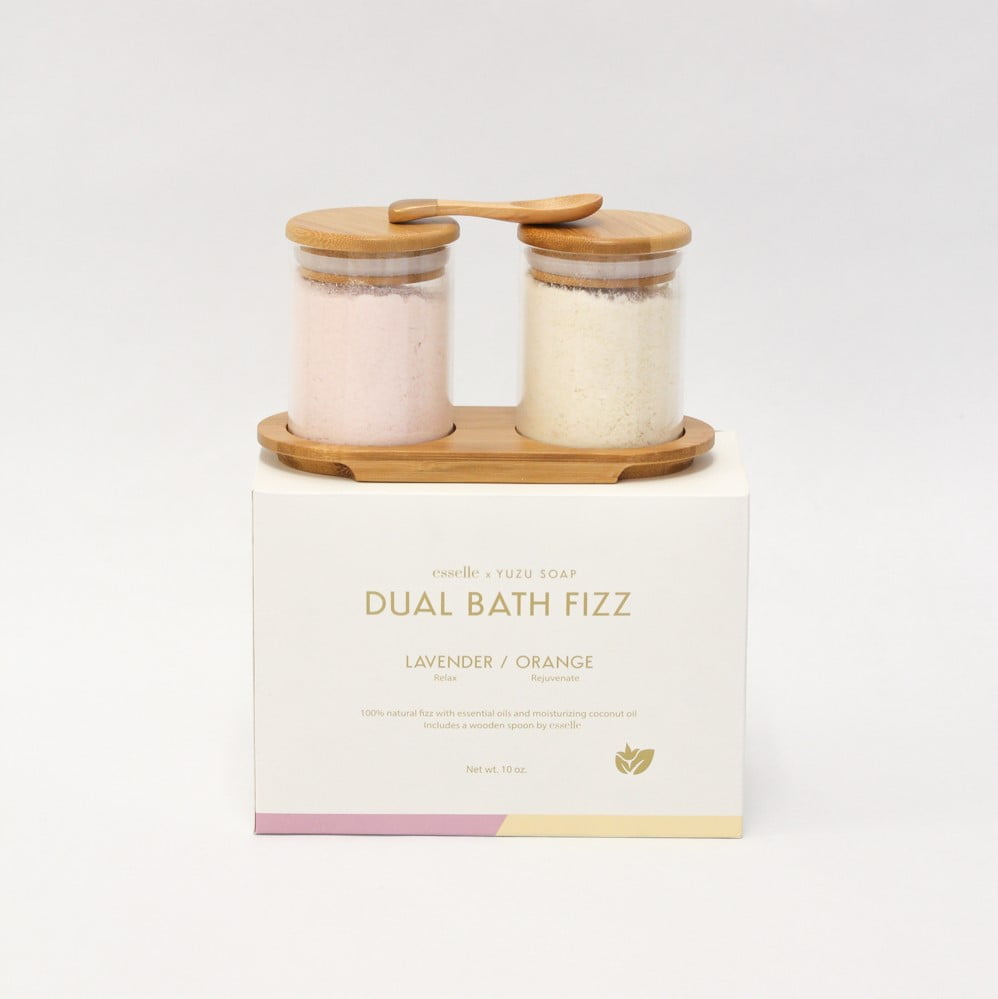 Uncategorized
Essentially bath bombs in powder form, our bath fizz is highly concentrated with essential oils and can be used for 8-12 baths. A little goes a long way! This Dual Bath Fizz Set allows you to customize your own blend of scents and usage amounts. Relax and unwind with a couple scoops of the Lavender fizz, or add the Orange fizz for a refreshing pick-me-up. Blend the two scents to create your own customized bath experience. The fizz powder is
100% natural and scented with essential oils.
Our ingredient list is short and simple, with no fillers added. Treat your mind and body to a relaxing bath experience and rest assured that you are bathing in all clean ingredients. The set includes a gilded wooden spoon designed by
esselle
, two glass jars, a bamboo tray and 10 oz. of bath fizz. This Dual Bath Fizz Set is an exclusive collaboration item with
esselle
, a modern tabletop decor brand based in the San Francisco Bay Area.
TIP
: Reuse the glass jars as storage or spice jars, and the wooden spoon as a coffee spoon!
Directions:
Fill your bathtub with warm water. Add as little or as much bath fizz as desired. Recommended amount is approximately 6 spoonfuls (e.g. add 5 parts Orange and 1 part Lavender for a refreshing bath with a subtle floral hint).
Ingredients:
Baking soda, citric acid, coconut oil, essential oils, and natural clay.
Net weight:
10 oz.
Packaged Dimensions:
7.25'' (L) x 4.50'' (H) x 3.75'' (D). Refills now available as part of our
Bath Fizz Tube
collection.
$

44.00
Rated 5.00 out of 5