Mini/Travel Soaps (1+ lbs)
$20.00
Rated 5.00 out of 5
Our assorted soap odds and ends are perfect to use as travel, hand, or guest room soaps! Each bag includes at least 1 pound (16 oz) of small, random soap sizes (for reference, our regular bar size is 4.5 – 5.0 oz). Each bag may contain soaps from any of our soap collections. For ingredients, please refer to our individual soap listings below. Please note that our soap odds and ends come un-marked and un-packaged. This item is final sale.
Net weight: 1+ lbs
In stock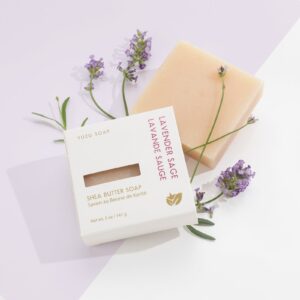 Products
Our shea butter soap bars are made with plant-based oils and shea butter for a luxurious and moisturizing cleanse. These soap bars are gentle, creamy and lathering. We recommend this soap bar for customers who like a more creamy lather. Our
Aloe Vera Soap Collection
is recommended for customers who like more of a cleansing feel. We do not use synthetic preservatives in our soap bars. Hence, please store the soap away from water and heat to extend its longevity. Check out our
Self Draining Soap Dish
for a beautiful option of storing and displaying your soap bar.
Lavender Sage: A sweet and floral aroma to make you feel fresh and relaxed.
Japanese Yuzu: Aromatic with sweet accents and bold citrus freshness.
Eucalyptus Mint: A cool, minty and refreshing scent.
Sandalwood: An invigorating blend of a warm, rich, and comforting scent.
Lychee: A unique combination of exotic fruitiness, refined sweetness and light floral tones.
Tobacco & Bay Leaf: Fresh and clean unisex scent with earthy notes.
Ingredients:
Olea Europaea (Olive) Oil, Cocos Nucifera (Coconut) Oil, Glycine Soja (Soybean) Oil, Zea Mays (Corn) Oil, Cannabis Sativa (Hemp) Seed Oil, Butyrospermum Parkii (Shea) Butter, Aqua, Sodium Hydroxide and Essential Oils or Fragrance Oils.
Net weight:
5 oz
$

10.00
Rated 4.58 out of 5