Mini/Travel Soaps (1+ lbs)
$20.00
Rated 5.00 out of 5
Our assorted soap odds and ends are perfect to use as travel, hand, or guest room soaps! Each bag includes at least 1 pound (16 oz) of small, random soap sizes (for reference, our regular bar size is 4.5 – 5.0 oz). Each bag may contain soaps from any of our soap collections. For ingredients, please refer to our individual soap listings below. Please note that our soap odds and ends come un-marked and un-packaged. This item is final sale.
Net weight: 1+ lbs
In stock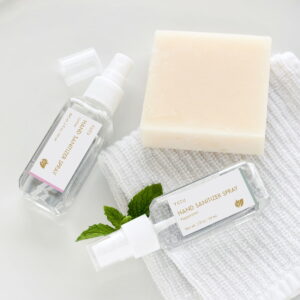 Products
Our Hand Sanitizer Sprays contain
75% isopropyl alcohol
. Our sanitizer formulation adheres to CDC recommendations. We measure the alcohol concentration of every batch to ensure accuracy and effectiveness. Vegetable glycerin is added for moisturizing benefits. Produced in small batches in our FDA registered facility. Currently available in the following scent options:
Japanese Yuzu: Our signature fragrance, this citrus scent is aromatic with sweet accents. Scented with phthalate-free fragrance oils.
Lavender: A calming and floral aroma to make you feel fresh and relaxed. Scented with essential oils.
Lychee: A unique combination of exotic fruitiness, refined sweetness and light floral tones. Scented with phthalate-free fragrance oils.
Peppermint: Strong and cooling, this traditional mint scent is sweet and brings back memories of peppermint candies. Scented with essential oils.
Unscented: Keeping it simple with no added fragrance.
Directions:
Shake well before use. Spray product liberally onto hands and rub hands together until dry. For external use only. This product is packaged in a plastic 2 oz. spray bottle. Each bottle allows for approx. 500 sprays. Our Hand Sanitizer Sprays should be used when soap and water are not readily available. Check out our
Soap Collection
for hand-washing and our
Body Collection
for moisturizing products.
Shipping Restrictions:
Due to the nature of this product, all orders that include sanitizers must be shipped via ground transportation. We currently ship within the continental US and Canada.
Active Ingredient:
Isopropyl Alcohol (75% v/v)
Inactive Ingredients: 
Water, Hydrogen Peroxide, Glycerin, and Fragrance or Natural Fragrance.
Net weight:
2 fl. oz. (59 ml)
National Drug Codes (NDC)
: 77215-000-02, 77215-001-02, 77215-002-02, 77215-003-02, 77215-004-02
$

8.50
Rated 4.48 out of 5