Square Ceramic Dish
This white square ceramic dish is recommended to use with our Shower Tablets to help prolong the essential oil scents (so the water doesn't drain away immediately). This dish is a perfect fit for a single shower tablet.
Dimensions: 2 5/8" x 2 5/8"
Dishwasher, oven and microwave safe. Can be re-used for other purposes (e.g. to mix your clay masks, for kitchen use, etc.).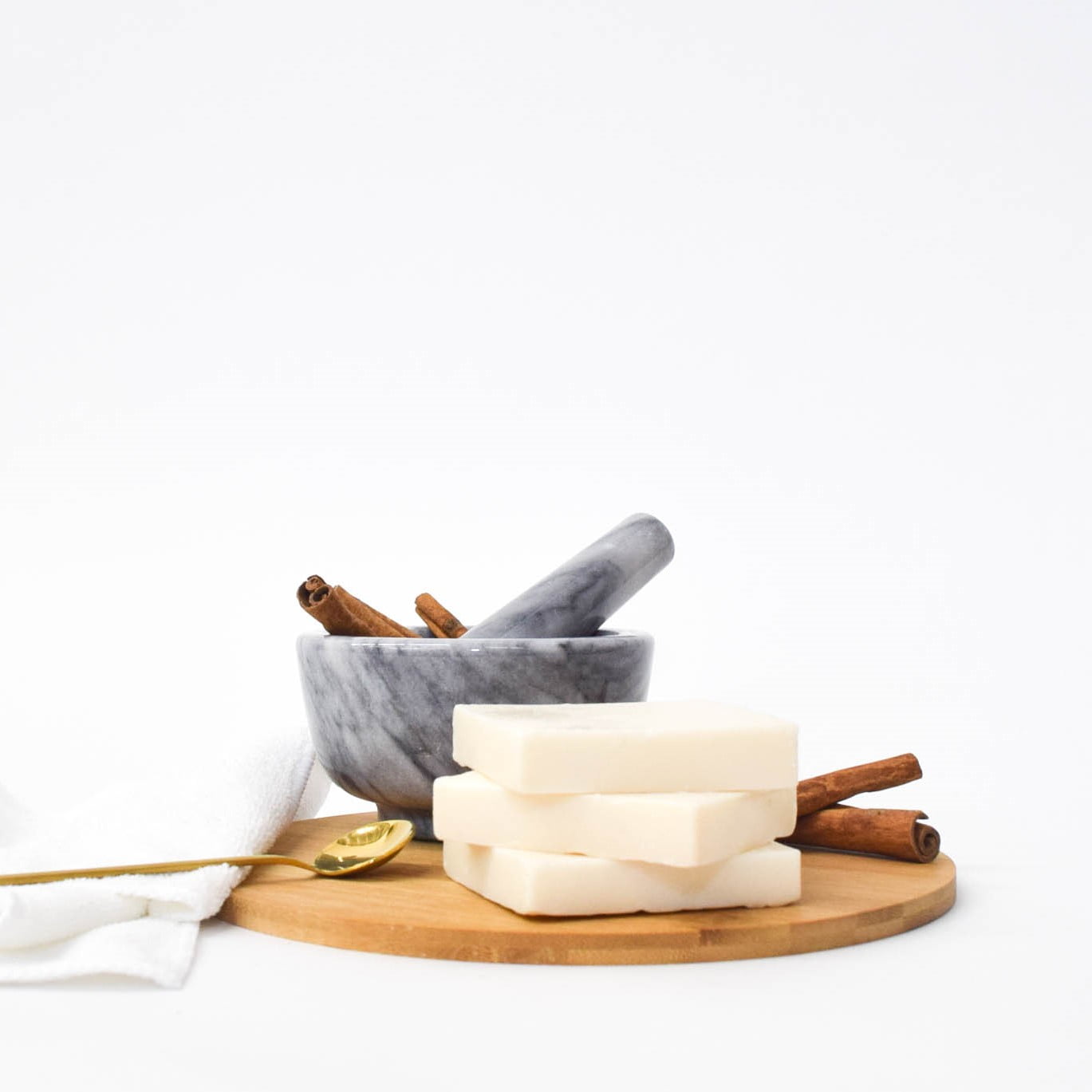 Uncategorized
Our goat milk soaps are formulated with plant-based oils and real goat's milk. Goat's milk helps soften skin and provides an extra lathering and moisturizing cleanse. This handmade soap bar is made in small batches and each bar can slightly vary in size, color and design. Our soap bar is gentle enough for use on sensitive skin.
We recommend this soap bar for customers who like a more creamy lather. Our Aloe Vera Soap Collection is recommended for customers who like more of a cleansing feel.
We do not use synthetic preservatives in our soap bars. Hence, please store the soap away from water and heat to extend its longevity. Check out our Self Draining Soap Dish for a beautiful option of storing and displaying your soap bar.
Coffee Mint: Indulge in rich, warm coffee with refreshing hints of spearmint. This scent was made for coffee-lovers in mind.
Chai Tea: An inviting, complex aroma to make you feel warm and at home.
Bergamot Lime: Feel surprisingly relaxed with this unlikely combination of sweet and tangy.
Tahitian Vanilla: Smooth, rich and creamy vanilla with coconut notes.
Ingredients: saponified oils of coconut, palm and safflower, glycerin, goat's milk, purified water, sorbitol (moisturizer), propylene glycol (from vegetable glycerin), sorbitan oleate (emulsifier), oat protein and essential oil and/or fragrance oil. In addition to the above listed ingredients, our Coffee Mint soap includes real coffee and coffee grounds.
Net weight: 4.5+ ounces
Natural Collection scents include Bergamot Lime.
Fragrance Collection scents include Chai Tea, Tahitian Vanilla, and Coffee Mint.
$

12.50
Rated 5.00 out of 5